« Learn more about other chemicals used in Building and Construction
As a floor covering choice, carpet can provide a number of attractive qualities to building occupants. Carpeted floors can help provide sound insulation, reducing noise from traveling through a building. Carpets also can contribute to retaining warmth in a room, which could help save energy. Nylon and polyester are two of the most commonly used fibers in carpeting.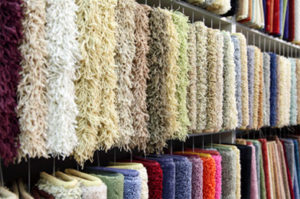 Nylon
Nylon, the most commonly used carpet fiber, is durable, resilient and stands up to abrasion. It also has good texture retention, enabling it to maintain its original appearance over time. Nylon's resiliency is due in large part to its chemical make-up – the hydrogen molecule that constitutes part of its structure can be revived by the hot water extraction cleaning method, known as steam cleaning. The heat from the steam cleaner reactivates the hydrogen molecule, so that when the fibers have begun to flatten due to foot traffic, cleaning the carpet helps the fibers to bounce back.
Advances in stain treatment technologies have enhanced the stain resistance of nylon carpet. Solution-dyed nylon is created in a manufacturing process that builds the color into the fiber as it is formed, making the color an inherent part of the fiber that cannot be removed. When the color is actually part of the fiber, it is permanent and fade-resistant, and spills are less likely to attach themselves to the fiber to create stains.
Polyester
Polyester is a popular choice in carpet fiber due to its lustrous appearance, eco-friendly properties and low cost. Perhaps one of the biggest draws of polyester is its inherent stain resistance. Polyester is referred to as a closed-cell fiber, which means that it does not have any open dye sites for stains to adhere to.
Much of the polyester in today's carpet industry is made from recycled PET, derived from plastic soft drink bottles. This helps to keep millions of these bottles out of landfills, and saves on the use of resources in the production of polyester.
More Information