Product Safety & Transparency
ACC and its member companies are committed to enhancing access to information about the chemicals that are used in creating healthy, high-performance, and sustainable building products. This information can help anyone from architects, contractors, to DIYers make smart material selection decisions.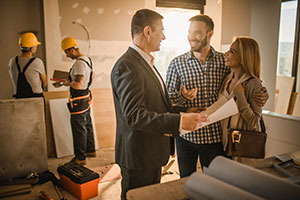 As a condition of membership, under the Responsible Care® Product Safety Code, ACC member companies have processes in place to evaluate products for safety and environmental impacts, and to share chemical information along the supply chain to help customers make informed, science-based materials decisions.
Progress Through Partnership
ACC and its member companies are committed to collaborating with stakeholders throughout the building, design and construction community in order to improve access to healthy materials and spaces for everyone.
As an expression of that commitment, ACC has been a keystone member of the International WELL Building Institute (IWBI) since 2019. Working together, we have helped provide subject matter expertise and excellent practices examples to improve categories from material health to water quality in WELL v2.0.
At the Greenbuild 2019 Conference, ACC and IWBI collaborated to jointly host a "Global Health and Wellness Summit," to bring together stakeholders to discuss how to work together to help advance holistic approaches to health and wellness in buildings, positioning materials science as a lens through which building design and operations decisions can be improved.
Technologies to Advance Health & Wellness
Architects, builders and designers may be asked to consider how occupants will interact with and use products and materials in a building. Will the product make life easier and more convenient? Conversely, are there any concerns associated with the products and materials being used?
Building materials and technologies can play an important role in enhancing health and wellness for building occupants. For example:
House wraps made from polypropylene or polyethylene films, vinyl roofing membranes, and advanced insulation made from spray polyurethane foam (SPF) and rigid foams made with polyurethane, extruded polystyrene and expanded polystyrene – can help prevent the infiltration of microorganisms, dust, pollen, and mold spores that can produce infection, allergic responses and immune-system stress, and thereby help improve indoor air quality.

Caulks and foam insulations fill tiny cracks and holes in doors and window frames, minimizing air leakage to reduce heating and cooling costs and helping to keep occupants comfortable. Silicones, polyurethanes and acrylics help bond window frames to surfaces like wood, concrete or aluminum, helping to reduce air leakage and keep indoor temperatures comfortable.

With people spending much of their time indoors, circadian lighting systems made possible by chemistry technologies can help support healthy building environments. Advances in LED technology have helped develop tunable white light systems that mimic daylight patterns by adjusting correlated color and brightness levels throughout the day.