« Learn more about other chemicals used in Building and Construction
In building and construction, polyurethanes are used to make high-performance products that are strong but lightweight, perform well and are durable and versatile. Polyurethane products also can help enhance the aesthetic design of homes and buildings.
Polyurethanes are formed by reacting a polyol chemical compound with a type of chemical called diisocyanates, which are mixed to create different types of polyurethane applications. Products such as furniture and carpeting that contain polyurethane are fully "cured" before they are sold, meaning that the chemical reaction that created the product is complete. The U.S. Environmental Protection Agency (EPA) has stated that completely cured polyurethane products are considered to be "inert and non-toxic."
Polyurethane is a key ingredient in several types of high-efficiency insulation materials, sealants and adhesives used in home and building construction.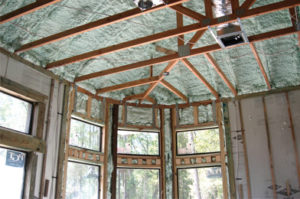 Examples:
As an insulation, roofing and sealant product, spray polyurethane foams (SPF) can play a major role in insulating and air-sealing homes and buildings – helping to reduce air leakage, which can result in lower utility bills, reduced greenhouse gas emissions and improved indoor air quality by helping to eliminate infiltration of dust and allergens. Strong, durable spray foam also can improve a building's strength – it essentially increases a building's resistance to wind uplift, helping to protect a building against severe weather conditions.

Polyurethane flexible foam is a popular material used in furniture, bedding and carpet underlay. As a cushioning material for upholstered furniture, flexible polyurethane foam helps make furniture stylish, durable, comfortable and supportive. Both rigid and flexible polyurethane foam can meet fire safety standards and building code requirements for flame resistance.

Polyurethane-based binders are used in composite wood products to permanently glue organic materials into oriented strand board (OSB), medium-density fiberboard (MDF), long-strand lumber, laminated-veneer lumber and even strawboard and particleboard.

Polyurethane elastomers are rubber-like materials that can be created with a wide variety of properties and molded into almost any shape. Depending on the intended use, polyurethane elastomers can provide resistance to abrasion, cuts and tears; temperature extremes; mold, mildew and fungus; and negative effects of aging. The low weight of elastomers and their machinability, make elastomers a great choice for dozens of applications in building and construction.
More Information: